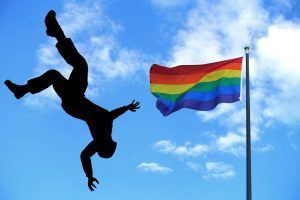 The NHS is very clear, safer sex is using a condom. It's that simple. For gay men, testing for HIV and STIs should happen on a 6 or 12 monthly basis, but testing is never a "prevention" strategy. It won't keep you the individual safe from HIV or STIs. Testing is more about a collective responsibility to stop the spread of diseases.
However the condom hating so called "experts" in the gay ill health sector are having none of this. They insist the sexual health "landscape" has changed and we live in a "post condom world". You, as an individual, need to be very wary of this conclusion or you could become a victim whose sexual health is seriously compromised by their bareback agenda. Their aim is for you to ditch condoms or at the very best regard them as an after thought after considering the other "combination" approach strategies.
Deviously they have separated HIV from other STIs and concentrated on what "HIV prevention" is and what they consider "works" as "protection" in that very narrow realm. Their "combination" sexual health strategy is built on trust, negotiation and belief in "science" (although it's really just manipulated surveys to push a bareback agenda). This "combination" strategy is a false hope, a "fingers crossed and hope for the best" approach which could lead you to have serious long term sexual health infections and damage to your body.
Just as you wouldn't trust a gay man if he said he was HIV negative and wanted to have bareback sex you should not trust one who says he is "undetectable for HIV" and that's his "HIV prevention strategy" or "I tested for HIV last week and it was negative" or "I'm on PrEP". Gay men lie to get the sex they want and in the age of apps and casual sex you may never see him again. So for him there are no consequences to him lying. Not like the old days when you would bump into him down at the gay bar.
Yet the gay ill health sector are pushing this "combination" approach as they wish to "destigmatise" unprotected – condomless – sex and normalise it in the gay community. So you, Mr Condom User, are isolated in the post condom world of the apps and are pressurised into "condomless" sex as your only option. And here is where PrEP comes in, as the social shift is to biological medical intervention and not behavioural change for the barebacker.
As absolutists the gay ill health sector are blind to the consequences they are creating, or simply don't care. You decide. Many STIs are on the verge of being untreatable and rising in the gay community because unprotected anal sex without a condom is the greatest route for transmission.
Ask yourself why are they not greatly concerned about this, as antibiotics are about to fail? Why are they not promoting the hell out of condoms and highlighting that these diseases are a danger to your sexual health? Why do they concentrate on HIV "combination" prevention as "protection" and ignore all the STIs or give them a cursory mention?
Lets face it the gay men who are leading on gay men's sexual health hate condoms, always have and always will, that's why most are HIV positive. It's not about protecting you Mr Negative from HIV or other STIs, its about driving down the number of gay men who reach for the condom on the bedside table. Creating the "post condom world" they desire, where you let poz guys "cum inside" you.